News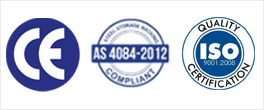 Contact
JN Factory:No.6 Xining Road, Jiangning District, Nanjing, China.
JB Factory:NO.12-88, Qiaolin Industrial Park, Pukou District, Nanjing, China.
0086-25-89622571
0086-13913333969
0086-25-89622573
Company News
The Selective pallet racking exported to German
2022.07.12
Project name: Selective pallet racking;
Racking size: H5100mm*D900mm*L2700mm;
Number of racking layers: 3 layers of beam;
Load capability of per layer: 3000kg per layer;
Pallet size: L1200*W1000*H1350mm, 1500kg/pallet.
Product Feature
Selective pallet racking is the most popular and economic storage system at present. The racking is mainly used together with pallet and common forklift. It is safe and convenient, can make full use of the space. Goods are packed on the pallet, then the pallet is deposited or picked up from racking by forklift easily and freely. It is widely used in warehouse, supermarket, distribution centers and other logistic places.
One customer purchased the pallet racking from us last year, and when they received and installed the racking, we inquired them about the product, they said they were very satisfied with our product quality and our service, and they will purchase the pallet racking from us again soon, yes, they did, Yesterday ( July 7th, 2022), we loaded one 40HQ container of selective pallet racking items, and took pictures of these items and sent it to the customer, they said that they are very happy to do business with us and hope to keep long business relationship with us. Of course, compliment from our customers is positive to our work, we will continue to serve all our customers well.