News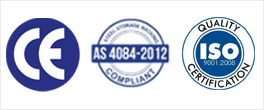 Contact
JN Factory:No.6 Xining Road, Jiangning District, Nanjing, China.
JB Factory:NO.12-88, Qiaolin Industrial Park, Pukou District, Nanjing, China.
0086-25-89622571
0086-13913333969
0086-25-89622573
Company News
Warehouse Storage Mezzanine Racking System
2020.08.20
Mezzanine rack are widely used in the situation of higher warehouses, smaller goods, manual access, and large storage capacity, which can make full use of space and save warehouse space. According to the actual site and specific requirements, it can be designed as a single-storey or multi-storey loft, usually 2-3 floors. It is especially suitable for the classification and preservation of auto parts, electronic devices and other enterprise series products. The medium load is 100-300kg / layer, and the heavy load is 300-1000kg / layer. The transportation methods for goods to the second or third floor are usually: manual, lifting platform, hoist, conveyor, forklift, etc.
Mezzanine floors are an ideal solution if you want to increase the capacity of a warehouse or retail unit without the cost and inconvenience of relocation. A mezzanine floor allows you to optimise your existing space, in certain cases it can at least double (or greater) available floor space, without the need to extend your building or relocate your business to a larger facility.
Sunnyrack has been at the forefront of Mezzanine Floor Design, Manufacture & Installation and have successfully implemented mezzanine floors in buildings across a number of sectors.