News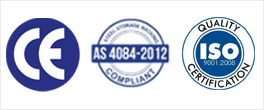 Contact
JN Factory:No.6 Xining Road, Jiangning District, Nanjing, China.
JB Factory:NO.12-88, Qiaolin Industrial Park, Pukou District, Nanjing, China.
0086-25-89622571
0086-13913333969
0086-25-89622573
Company News
SOP(Standard Operating Procedure) For Pallet Rack
2020.06.05
1, Follow the storage principle of placing heavy goods on the bottom and light goods on the top.
2,Overload is forbidden:The weight of each level should not exceed the maximum loading of rack.
3,Anti-collision:the operation of the forklift should be handled as light as possible to prevent collision to the rack.
4,Operators should not enter the bottom of rack directly if goods are stored on the top.
5,The pallet should be raised first when accessing.it's strictly forbidden to drag and drop pallet on the beam.
6,It's strictly forbidden to adjust the height of level without permission.The adjustment plan must be notified to rack supplier and confirmed before operation.
7,The light in the warehouse must be bright when accessing the pallet.the light in the lane should be kept bright for operation.
8,The operator must be in a good state of mind during accessing.
9,The forklift needs daily inspection and maintenance to make sure the forklift can be worked in a good state.
10,Operators must be trained well before they can drive forklift to access pallets.
11,rack must be checked regularly:
A,is there any displacement of the safety pin on the beam.
B,if the connection of bolt is loose or not?
Sunnyrack is one of earliest and professional rack manufacturer,was founded in 2002 and start its foreign business from 2007,our main products are pallet rack,drive in rack,cantilever rack,shuttle rack,push back rack,mezzanine&steel platform,longspan shelving,mobile shelving and etc.