News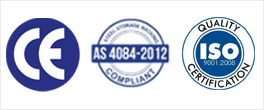 Contact
JN Factory:No.6 Xining Road, Jiangning District, Nanjing, China.
JB Factory:NO.12-88, Qiaolin Industrial Park, Pukou District, Nanjing, China.
0086-25-89622571
0086-13913333969
0086-25-89622573
Company News
How Long Is The Service Life Of Rack?
2020.05.15
Generally speaking,the storage rack can be used for 10 years,but some racks are still in normal use even more than 10 years.
There are many factors related to the use life of rack such as material,production process,environment,proper operations to use rack will affect the use life of rack.
Material
Q235B steel is the main material for rack industry.but the quality of steel produced by different steel mills is relevant.steel material produced by Angang and Baosteel is more reliable in quality.The raw materials our Sunnyrack selected are all from Baosteel.
The rack made by different quality steel may not be much different in appearance.but it will affect the use life of rack.The better quality of steel,the better tensile strength,impact toughness,hardness,cold brittleness and weldability.
Production Process
The production process will also affect the use life of rack.There is definitely a big difference between small workshop and powerful factory in terms of quality management.The production process is including Cutting,Punching,Milling,Welding and Surface Treatment.For surface treatment,it also including oil removal,rust removal,pretreatment ,phosphorus,process,passivation,electrostatic spaying,high temperature curing and etc.
Some small workshop will cheat on material or omit some process to save the cost.although no problem in shot time but troubles will come and find you later.
Perfect quality management will ensure the rack work longer and safe.
Environment
The environment also affects the use life of rack, a ventilated,dry and clean environment is best for storage goods and longer the use life of rack.
Proper operation
1,Forbid overload:The weight of each level should not exceed the maximum load of rack.
2,Forbid over height and width:The size of the board and goods should be smaller than clear space 100mm.
3,The accessing process should be handled as lightly as possible.
4,Placing light goods on top level and heavy goods on the bottom.
5,Non-standard floor board are forbidden to used on the rack.
Sunnyrack is one of earliest and professional rack manufacturer was founded in 2002 and start its foreign business from 2007,our main products are pallet rack,drive in rack,cantilever rack,shuttle rack,push back rack,mezzanine&steel platform,longspan shelving,mobile shelving and etc.