News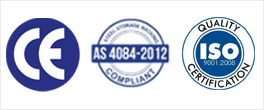 Contact
JN Factory:No.6 Xining Road, Jiangning District, Nanjing, China.
JB Factory:NO.12-88, Qiaolin Industrial Park, Pukou District, Nanjing, China.
0086-25-89622571
0086-13913333969
0086-25-89622573
Company News
3 Tips For Choosing A Good Pallet Rack System
2020.05.29
Pallet rack is a conventional racking system in logistic industry.we need to put the goods stored on the pallet neatly first,otherwise it will be inconvenient for operator to access the goods.In order to make full use of the advantages of heavy duty rack,we must choose a storage rack which will suit our company best.
1,The access model of pallet rack:
There are 2 accessing methods:access by manual or access by forklift.Therefore,the buyer choose the rack should according to his own access method.
2,Total loading of pallet rack:
We should know the warehouse size(L*W*H) and the size and weight of stored goods before design pallet rack.The longer length of beam,the larger the storage volume will be.however,the longer the length of beam,the lower the loading.
3,The load-bearing and horizontal level of warehouse ground:
The load-bearing and horizontal level are also important parameters before design the pallet rack,there will be a safety accident and short the service life of pallet rack if can't meet the requirement.
Sunnyrack is one of earliest and professional manufacturer,was founded in 2002 and start its foreign business from 2007,our main products are pallet rack,drive in rack,cantilever rack,shuttle rack,push back rack,mezzanine&steel platform,longspan shelving,mobile shelving and etc.