News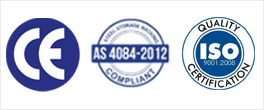 Contact
JN Factory:No.6 Xining Road, Jiangning District, Nanjing, China.
JB Factory:NO.12-88, Qiaolin Industrial Park, Pukou District, Nanjing, China.
0086-25-89622571
0086-13913333969
0086-25-89622573
Company News
Industrial Warehouse Steel Storage Mezzanine Platforms.
2020.05.22
When your rapidly-growing business demands additional storage space, Steel Storage Mezzanine Systems offer an alternative to expensive, inconvenient facility renovation or warehouse relocation. Engineered to bring you the strength of structural steel at an economical cost, a prefabricated Steel Storage Mezzanine Systems lets you turn any unused space into a new vision tower, office, warehouse, storage, cafeteria, or production area. You can actually double your storage capacity in any new space! What's more, since free-standing mezzanines are considered capital equipment, installing a Steel Storage Mezzanine Systems rather than expanding your building allows you to avoid additional property taxes and take advantage of more favorable depreciation rates.
The design of industrial warehouse storage mezzanines is intended to require as little space as possible to be used on the floor beneath the structure. Columns can be bolted into the ground, and these support the weight of the unit and everything that is stored on top of it. A latticework of beams is attached to the columns, and then the flooring material is placed on top and fastened into place. In order to guarantee the strength of the mezzanine, structural steel components are used throughout the construction to provide better support and a longer life than other alternatives.