News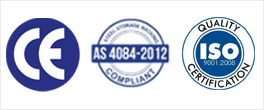 Contact
JN Factory:No.6 Xining Road, Jiangning District, Nanjing, China.
JB Factory:NO.12-88, Qiaolin Industrial Park, Pukou District, Nanjing, China.
0086-25-89622571
0086-13913333969
0086-25-89622573
Company News
Why Choose Pallet Rack With Wire Mesh Decking
2020.05.08
n order to stock pallets more stable and safe for operator,normally equiped with diffirent types like Wire mesh deck,Plywood,Steel panel or Support bar.Below we have compiled a list of the benefits of wire mesh decking.
1.Wire decking's versatility also allows you to store full pallet loads and less than pallet loads in the same rack system.
2.Wire mesh can also be created to hold UDL (uniformly distributed loads) or concentrated loads. Mesh patterns can be adjusted to support smaller products and increase capacity.
3.Wire decks can be made custom to your rack system ensuring correct load capacities and a perfect fit.,load capacity up to 3600kg each layer.
Here is our real project Selective Pallet Rack With Wire Mesh Decking: